Tag Archives:
Civil War II
"Does this world look saved?"
Welcome, this is D.C. back for a throwdown on a book that really left an impression in spite of its preceding event: Marvel's Civil War II: The Oath.
The Oath?
The Oath picks up after the events of Civil War II–which, honestly, I didn't finish because the story, for all its good art, just wasn't satisfying in terms of story. I gave up on issue #5 because of the lack of logic in events, and how you really needed to read the various tie-ins just to understand why the other characters chose the faction they chose.
This story also picks up after some key events in the Captain America: Steve Rogers series. That, I'll write a comprehensive review of later.
Impressions?
Writer Nick Spencer appears to get a lot of flack regarding the political undertones of his scripts, and for his recent takes on both Sam Wilson and Steve Rogers. However, in The Oath, Spencer pulls out the stops when he takes the reader on a monological tour of Steve Roger's feelings and thoughts on recent events. One of the most powerful moments already started at the beginning, when Steve beside a comatose Tony Stark and says, simply: "What a waste."
Those simple words already lets the reader know just how this Steve thinks of Tony. From there, Steve damns not only Tony  and Captain Marvel, but the superhero community in general. It is a sentiment felt by Ms. Marvel, the Champions, and Clint Barton, but Spencer lets Steve turn what appeared to be a story similar to Civil War: The Confession into a truly damning and, worse, mocking account by Steve.
I was left disturbed throughout the story as Steve pointed out Tony's hubris and failure as both a hero and a man. If you know anything about the rocky road between Iron Man and Captain America, reading Cap's opinions of Tony aren't necessarily new. But under Nick Spencer, the altered Steve is particularly scathing–almost violent, as if he is telling Tony, "Serves you right."
The most meaningful part of The Oath is it is hard to disagree with Steve's sentiments. Spencer seems to take note of social media views of current Marvel and superheroes in general, as well as current social issues, and weaves it in such a way that makes Steve 100% right in his opinion. His solution to the problem, though? That is where cognitive dissonance happens.
As if Steve's damning and mocking of everyone he knows and how easily he rises to the director of S.H.I.E.L.D. with even more power than any director before weren't enough, Steve ends his talk with Tony by sharing what he truly saw from Ulysses' vision. What we see see if truly  a taste of things to come. I was simply mind-blown by Steve's "future," and how he saw this as a return to America's greatness, America's utopia. From the outside looking in, it rings too true of all horrors from history…or heroism, depending on where your loyalties lie. That is what Spencer hammers home.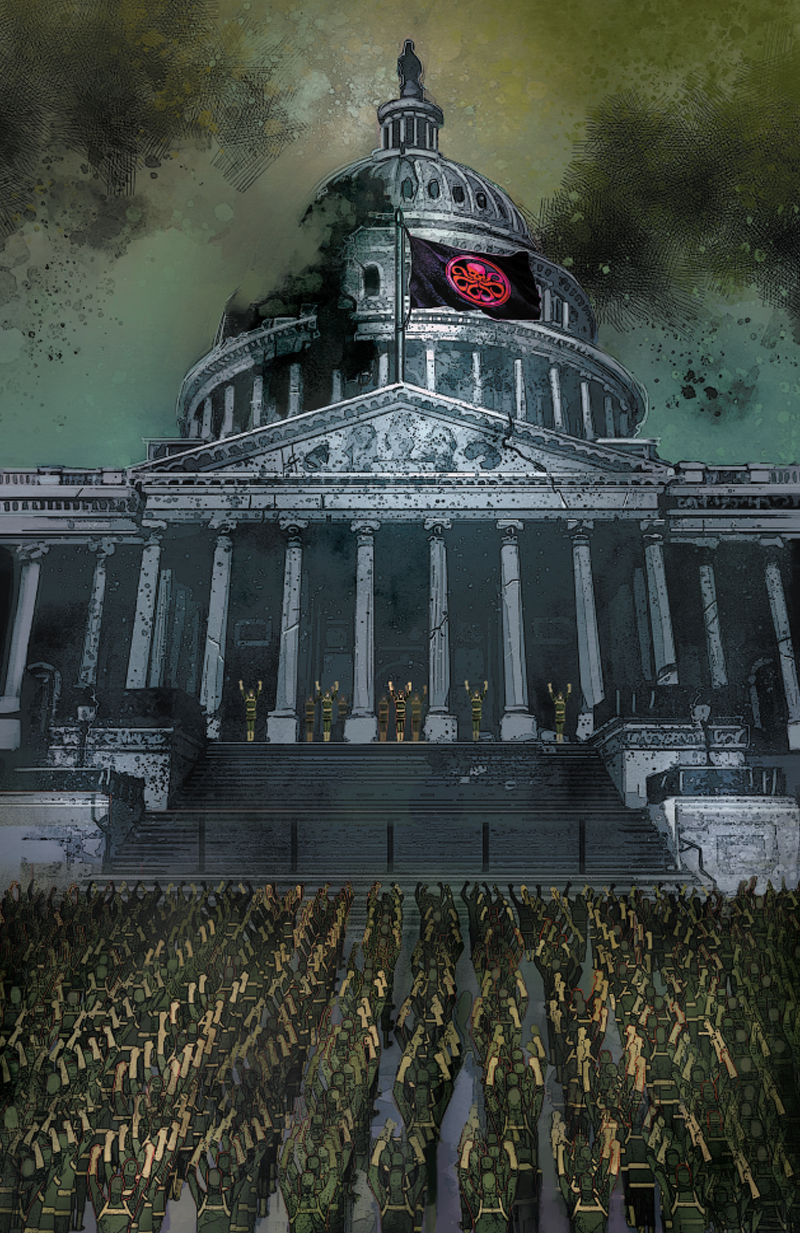 We are also left with a key comment by Steve: "I am not the man you think I am." Is this metaphorical, or literal? Is this really a Steve Rogers whose history was altered by Kobik, or is this an alternate Steve Rogers inhabiting the 616-Steve's body? How will Nick Spencer answer this? Rather, how well will Spencer answer this? Will this be a repeat of Captain America: Reborn, or will this be something with a little more spice?
The beautiful pencils and vibrant colors rendered by Rod Reis (and many others) help to give this one-shot a very disturbing feel at times, while lending to the shifting flashbacks and feelings of Steve. You can't have a disturbing voice without a disturbing face, and Spencer and work in perfect synergy to give us what Spencer has pushed since Steve Rogers #1: a subversive and conniving Rogers with the same moral fiber and convictions as the Cap everyone remembers, only twisted.
Verdict
Civil War: The Oath contains possibly the best writing I've read from Nick Spencer thus far. He lays out a morally twisted Steve Rogers' feelings and opinions bare for the reader to absorb, and what he leaves us with is dread cloaked in optimism. It was an engrossing and terrifying story made all the more disturbing by Rod Reis' captivating art style. If Civil War II left a bad taste in your mouth, this story really turns that around in time for Marvel's next event: Secret Empire.
HAIL HYDRA!