"Yabba dabba doo."
Hey, all, D.C. here, and I think it's time to discuss a series after enough reads. Up today is DC Comics The Flintstones, by the creative team of Mark Russell and Steve Pugh.
When DC Comics decided to come out with an updated version of The Flintstones, the child in me couldn't help but be intrigued. How would this be done? How would these iconic and classic characters be portrayed? What would the tone be?
What is The Flintstones?
…If you don't know what The Flintstones is…then you have missed something out of your childhood. It is one of the most iconic Hanna-Barbara brands ever, debuting in the '60s and born in the same vein as the classic sitcom The Honeymooners. If you haven't watched it…WATCH IT.
For the sake of time, I won't address Steve Pugh's art, which is very good. I will focus on Russell's take.
Story?
Satire is the name of the game with The Flintstones.
Mark Russell takes a classic cartoon series and turns it on its head with an adequate modern adaptation. Written in an episodic fashion, Russell makes note of various things that are considered beneficial, yet also can breed foolishness, in our society today. Stabs are taken at innovation of technology–particularly of appliances–that can make our lives easier, yet make us more and more materialistic. Fred deals with the pressures of purchasing such costly and faulty items.
Religion was touched on in a comedic and intriguing fashion, and again mirroring what happens now. People always want to belong somewhere, no matter how outrageous a religion or cult's tenants appear.
Surprisingly, the Loyal Order of Water Buffalo is portrayed as a fraternity of war veterans, both of whom Fred and Barney share membership. It is a rough issue that touches on the lack of appreciation the society gives to those survivors who suffer.
At times, Russell's satire is hilarious. Other times, it's insight. Many times, however, it can be scathing, almost showing a disdain for our current society and its hypocrisy regarding religion, veteran care, news, elections, marriage, bullying, science, and simple human decency. There isn't a moment this series isn't provocative.
One last note: character development. Russell has done a superb job dabbing into the backgrounds of Fred, Wilma, and even how Bamm-Bamm was adopted by the Rubbles (a very insightful and emotional issue).
Cast?
The cast is all there, which is always a good thing, and they are all portrayed very well. You can't have The Flintstones without the big four–Fred, Wilma, Betty, and Barney–their children, Dino, and good ol' Mr. Slate. Even the Great Gazoo shows up in issue #3, but how it comes about is very different and interesting.
One of the most commendable efforts I'd seen from Mark Russell is the background history in some of these characters that, in their own ways, answers lingering questions from the TV show itself, in addition to establishing this revisionist history.
Fred, simply put, is a shell of a man. He's nothing like the boisterous caveman with anger issues seen from the cartoon show. Fred is neutered, but why? We see just why when the answer to his and Barney's time as war veterans is addressed. It is reminiscent of how some vets return from war that is emotionally or physically traumatic, or any war they find themselves used as pawns in. It is in one of the meetings with war veterans that we see the origin and meaning of Fred's catchphrase, "Yabba dabba doo." It is nothing bombastic, but all very appropriate.
Still, Russell continually excels at showing that, despite his submissive personality, Fred is a righteous and courageous man at heart with a strong moral character in a crowd of selfish, complacent, and ignorant people.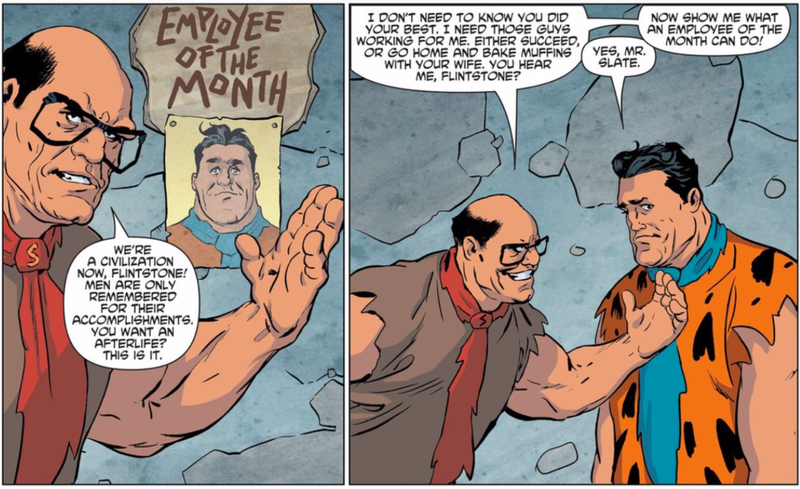 One of the better parts in the beginning of the series was Russell's dabbing in Wilma's background history and her life being the reasons behind her optimism and artistic choices. It's something I never expected from Russell, but he made Wilma even more endearing to me. Conversely, next to nothing has been given of Wilma's best friend, the equally vivacious Betty Rubble, but I hope that is something Russell will address in time.
It is hard to believe, but Fred's boss Mr. Slate is even more reprehensible under Russell's penmanship. Slate is as selfish and flippant as they come in The Flintstones. Frustratingly, Russell writes minute moments where we see hints of Slate's loneliness or some sort of humility in his actions; those moments are quickly dashed with a word by Slate. It makes me want to hate Slate even more, and for that, I commend Russell's handling of the character.
The series is still young, and I am still waiting for Russell to develop the teenage Pebbles and Bamm-Bamm, as well as Betty, Dino and the Great Gazoo. The possibility of an extended cast beyond the originals would add a little more spice to this series.
Verdict?
If you haven't dabbled in DC's The Flintstones yet, please do. Mark Russell does an incredible job revitalizing the classic characters while addressing a plethora of topics pertinent to our social climate. Whether you think them controversial, progressive, scathing, or biased, you cannot ignore that they are both provocative and thought-provoking, and worthy of discourse after you finish each issue.
END THROWDOWN.