Hello, everyone, this is Kay G.. Today I will be discussing an issue I've read recently, called Glitterbomb, written by Jim Zub.
The premise:
Glitterbomb is about a character named Farrah Durante, a struggling middle-aged actress hunting for her next gig in an industry where youth trumps experience. In her frustrations, she becomes an emotional lure for something horrifying out beyond the water.  This creature that consumes her is something ready to exact revenge on the shallow celebrity-obsessed culture that's led her astray.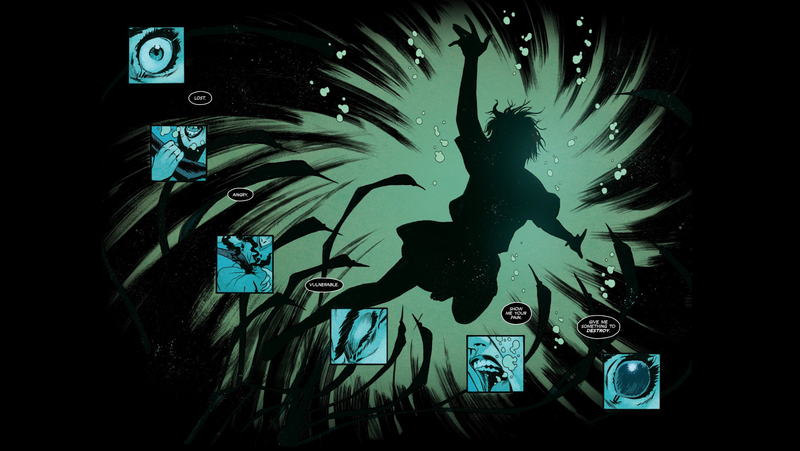 The Verdict: 
This story is an edgy and gripping tale of what it's really like to work in the entertainment industry, an industry where youth, not talent, is looked at–where sales are defined by the quantity of ratings, versus the quality of the work. In this mysterious comic, something takes hold of Farrah and seeks revenge. This creature, it welcomes her back like it's an old friend. Perhaps this has happened before to her, or possibly someone else. It has found a taste of blood and flesh in seek of what it feels is justice, or perhaps of what Farrah feels it is. It seems like it feeds off of her thoughts, hatred, and desires. It reacts first, and Farrah is the one left with the consequences.
Overall I found this issue greatly written, and anticipate the next issue.  It left me curious as to what will happen to Farrah, what other revenges this creature will take and who, or what, it really is.
If this mysterious story isn't enough, there is an excerpt in the back written by a woman named Holly Raychelle Hughes, who shares what it's really like to struggle to work in the entertainment business, and the obstacles that she overcame. It will surely open your eyes to many things, to the cruelty and humiliation that play being a woman in this field. Hughes openly shares what her life in the business was like and in doing so, helps the reader better understand what Farrah is going through. The understanding of a mysterious creature taking over for revenge becomes very dark and very clear.
Glitterbomb is very worth the read and don't forget to read Hughes' excerpt. Enjoy.